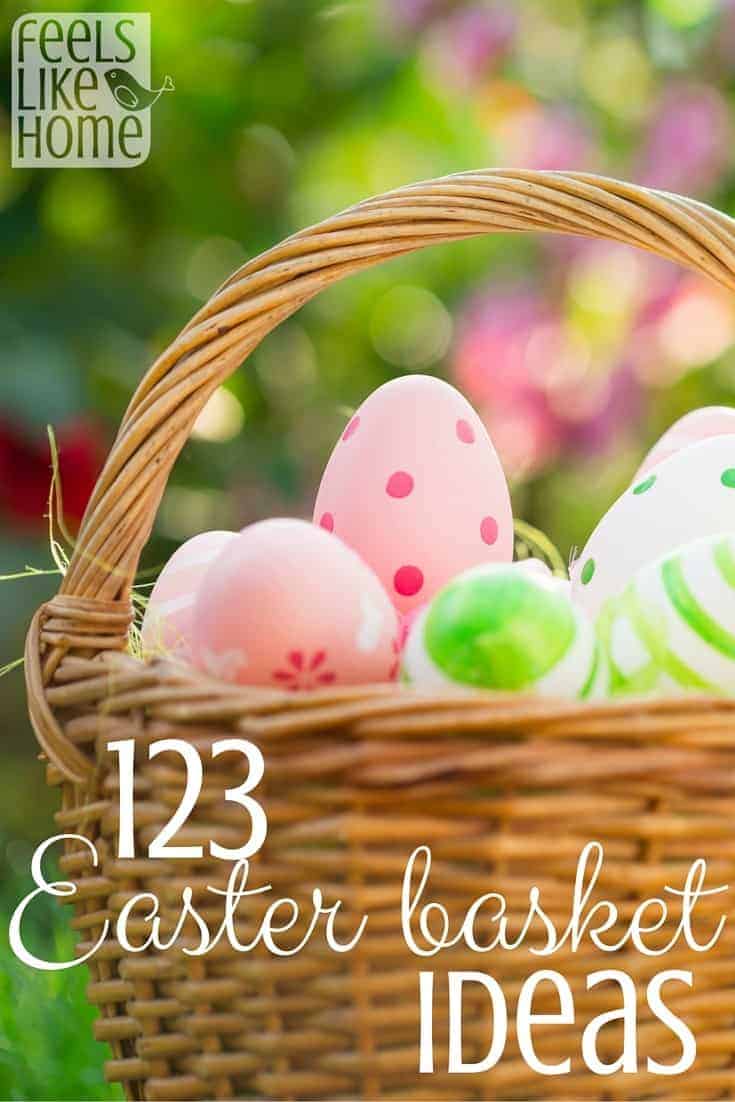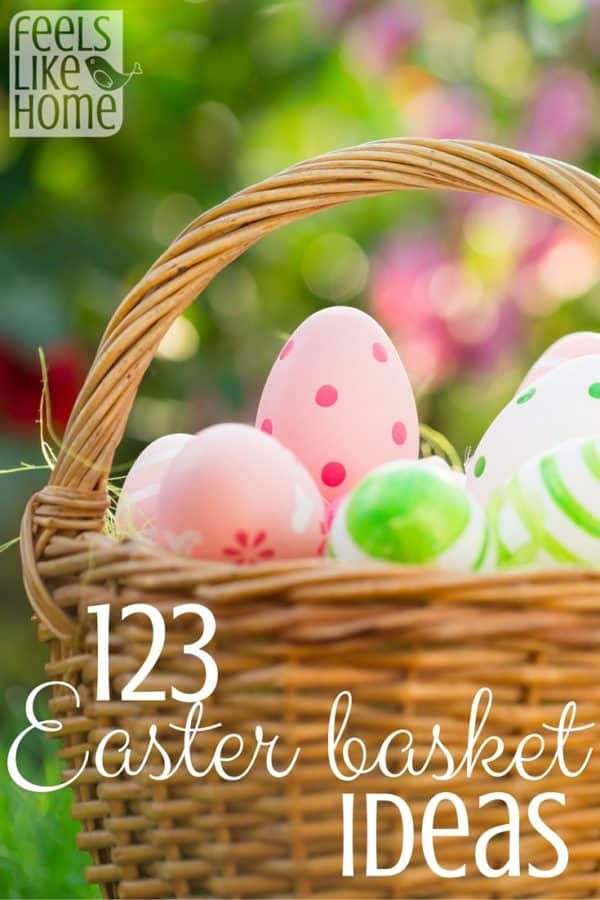 Pin
I love all the holidays, and all the special non-holiday holidays that my kids and I have come up with. I love to celebrate all the moments. It just so happens that making Easter baskets is a big part of springtime for me. I look forward to it as soon as Valentine's Day is over, and I have lots of Easter basket ideas to help you fill yours.
Easter happens to be the holiest of holidays in the Christian faith, remembering the sacrifice Jesus made in giving His life to cleanse all humanity's sins and restore us to a right relationship with God and celebrating His victory over death three days later.
My family honors the religious side of the holiday just like we celebrate the birth of Jesus in December. We are sure not to overlook Jesus as the reason for our holiday fun.
But then, we celebrate with bunnies and baskets and candy-filled eggs.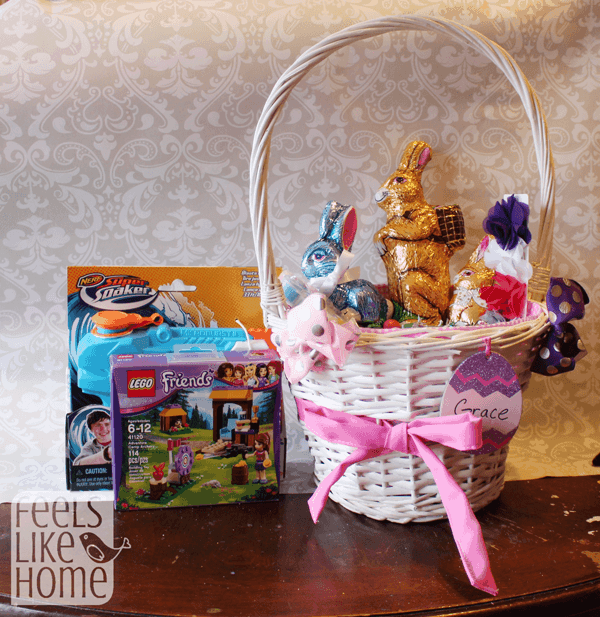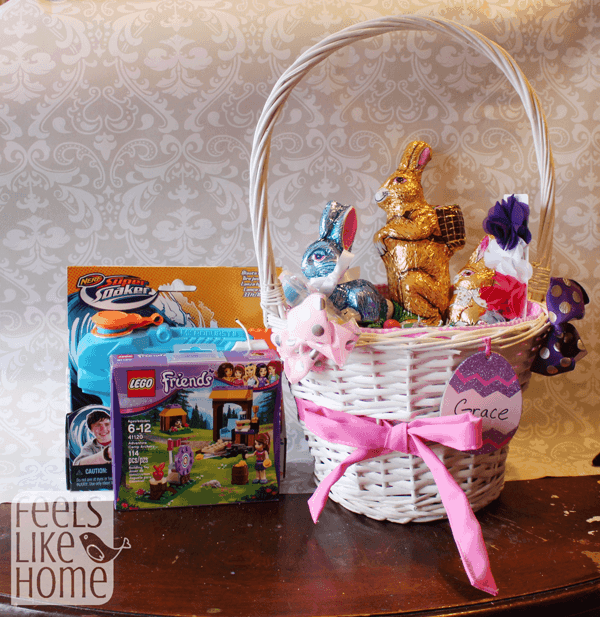 Pin
And I think that is perfectly acceptable.
We discovered See's Candies this year, and our kids' Easter baskets will be filled up with their delectable goodies! See below for photos of the goodness and read on for more about See's Candies: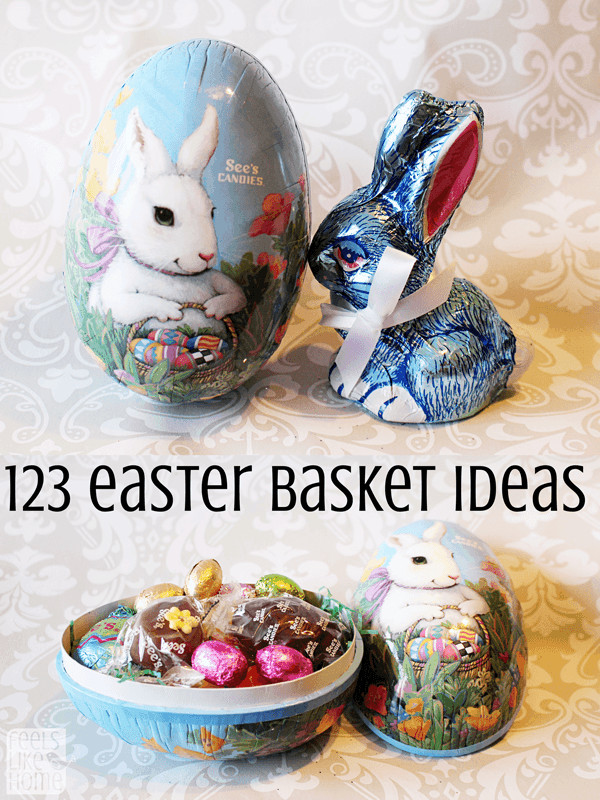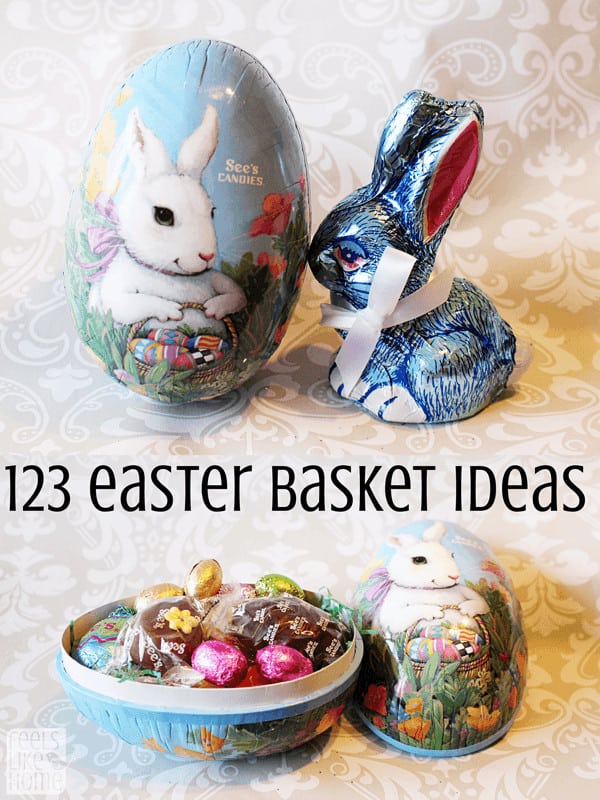 Pin
Inspired by the original recipes of Mary See and delivering deliciousness since 1921, See's happily continues to make candy Mary's way. Using only the freshest and finest ingredients, it's quality you can taste in every piece.

See's makes over 100 varieties of chocolates and treats in their own candy kitchens and is one of the few remaining candy makers that still ages their chocolate. This process imparts a smoother, mellower flavor and elevates the overall chocolate taste experience. See's also continues to hand-pack their boxed assortments, artfully hand-decorate special seasonal items, and hand-dip Bonbons and Scotch Kisses. There may be a faster, more automated way of doing things, but See's likes taking the time to get things done just right.

Step inside a See's Candies shop, and you'll see a crisp, clean, black-and-white checkered motif inspired by Mary See's original kitchen where each day, visitors are welcomed with the friendliest service and a free sample.

With over 200 retail shops across the country and an online shop that serves See's fans around the world, we continue to uphold our commitment to delivering the highest level of taste, quality, tradition and service.

Mary would be proud!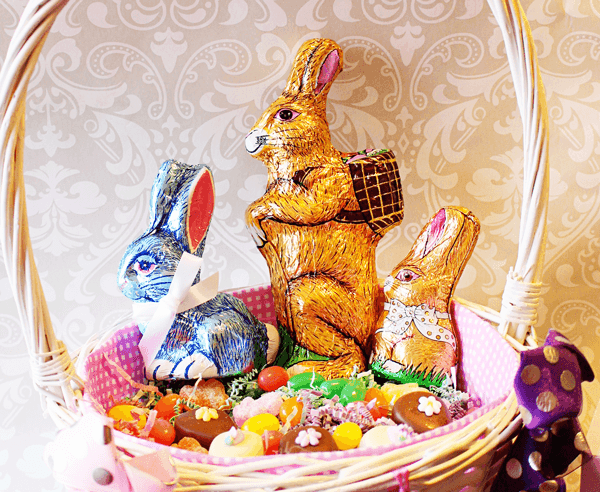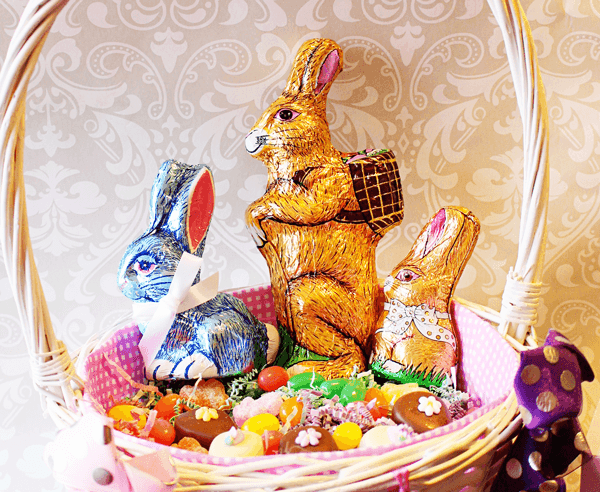 Pin
So anyway, you are here to read about what to put in your kids' Easter baskets, and that is what you are going to get. I tried to stick with things on the small side, that would actually have a prayer of fitting into a largish basket. My kids' Easter baskets are almost as big as a small laundry basket, so if you're wondering how they would fit, now you know.
Also, if you're looking for ideas to fill plastic Easter eggs, go to this post - 106 Things to Put In Easter Eggs. I did NOT copy that list to make this one, so while there is probably some overlap, the two lists are very different.
123 Easter Basket Ideas
See's Tall Milk Chocolate Bunny - Every basket needs a chocolate bunny, and this one is impressive!

An Easter outfit
New socks
Underwear - Who else's child can never find any clean underwear? Tell me I am not alone in this plight!
Swimsuit
Rain boots
New pajamas
A whistle
Printable mazes or coloring pages
Coloring books
Activity books
Coins
Paper money made into origami bunnies
See's Rocky Road Egg - This large egg is stuffed full of marshmallow, walnuts, and chocolate!

Small Lego or Lego Friends sets or this Easter Bunny made of Legos
Small Playmobil sets like this mother with kids
See's Chocolate Butter Egg with Walnuts - This large egg is full of creamy chocolate and crunchy walnuts.

Squirt guns - My kids are getting these this year.
Yoyo balls - I can't find these online anywhere, but I got my kids the coolest yoyo balls (that's what the name was on the package, YoYo Ball) at Walmart in the toy department. They are yoyos, but they are springy inside and come back up with no effort.
Shopkins - I don't see the point of these little things, but my kids love them.
See's Springtime Truffles - Creamy dark chocolate raspberry filling inside a white chocolate shell

Polly Pocket dolls - I like to vintage ones from the nineties, and my girls LOVE them. Ebay.
Matchbox cars
Insect Lore Butterfly Garden - We've done this a couple of times, and it is always really cool.
Live Frog Growing Kit - I want to do this. Badly. Maybe this year.
Sea Monkeys - If you do it right, these are really cool and last for months. We grew them about four years ago. Grace loved it. The only problem we had was that Allie (who was a toddler at the time) kept dumping them out, and then we'd have to start over. But it was well worth the $15 that they cost.
Small stuffed animals like the big eyed Ty animals
See's Dark Chocolate Bunny - The dark chocolate bunny is in blue wrapping in the bunny photo above.
A new camera - This would be a pretty high ticket item, but if you are indulging this year, why not?
Barbie dolls like this Easter princess
Barbie doll clothes
American Girl mini dolls - These are usually around $15 on Amazon, $25 directly from AG.
Magnetic dress up - We have every single one of these sets, and the girls are still playing with them after 8 years.
Walkie talkies - Don't get toy ones; they're garbage. Spend a few extra dollars and get them in the electronics section of the store or on Amazon. The ones I linked are really good. They really work, and you can tell what each other is saying. And they will go for over a mile. We tested.
See's Sour Bunnies - Grace said, "Mom! These are way better than those other sour candies!" They are seriously tart and so good!
Seeds to plant in her own garden
Sleeping Queens game - This is my family's new favorite game. We play it all the time.
Little Hands card holders - These are genius! We have one for each kid.
Bubbles - I like the no-spill bubbles Grace got for her birthday a couple of years ago.
Sunglasses
See's Jelly Beans - These jelly beans are the best! They are big and fruity flavored. I could eat these jelly beans all day!

Fun pencils
Dot markers (regular or shimmer, which is our favorite)
Chalk - white or colored - Don't buy this from Amazon! I did once, and I got five thousand pieces instead of 16.
A small sketch book
A journal
Stickers
Temporary tattoos
Fun band-aids
Make up
A TOOB of animal figures - These are really fun. We have a bunch of different ones.
Bubble bath
Magic washcloths
Color My Bath tablets - We buy these in bulk because my kids still love them.
Bath crayons - I could write a whole blog post about how we love Crayola's bath crayons. They have never stained, and we've left them on for months at a time. They always write perfectly. My only complaint is that they sometimes break off before they're kicked.
Bathblocks Floating Cooking Set - My sister got this for Allie for Christmas, and it is awesome! It's a bathtub cooking set complete with pots and pans. It's maybe a little big for an Easter basket, but could sit beside.

See's Easter Treasure Egg - This is my favorite See's product! It is a large, decorated cardboard egg that is stuffed full of candy treasure! What a treat to open up!

Counting bears - We have the next 5 things, and Allie loves playing with all of them. They're great preschool learning toys.
Goobis - If you've never played with these, you are missing out.
A pack of homemade coupons for dates out with mom, a chore-free day, and a fun family outing
Necklaces
A package of Easter-themed animals that grow in water (do these have a real name? You know what I mean, right?)
See's Assorted Eggs - These eggs are filled with chocolate butter, vanilla chocolate chip, and rich Bordeaux™.

Easter books like the Berenstein Bears Easter Story and Happy Easter Little Critter and Fancy Nancy's Elegant Easter and God Gave Us Easter and Pinkalicious Eggstraordinary Easter
A magazine subscription - Grace's (age 8) favorites are Ask, National Geographic Kids, Ranger Rick, and American Girl. Allie's (age 5) favorites are Highlights High Five, Ranger Rick Jr, and National Geographic Little Kids.
Hide N Squeak Eggs - These are for babies and toddlers. Allie has had a set since her very first Christmas.
Milk straws - Grace LOVES these.
Toothbrush & toothpaste - To go with all those goodies! My kids love Tooth Tunes because they play music for 2 minutes (so you know how long to brush). We just replaced ours from Amazon because they're hard to find in the store.
Hair ribbons or bows
Flashlight Friends - My sister gave the girls these for Christmas one year, and Grace carries hers around everywhere.
Regular flashlight
Kids CDs - Our favorites are Cedarmont Kids Worship (all the volumes), Wee Sing Bible Songs, and Best of the Laurie Berkner Band.
Kids DVDs or BluRays - My kids are getting The Good Dinosaur in their basket this year.
Sun hat
Bandana
Baseball cap
I have two girls, so my list is pretty heavily girl-themed. Sorry about that. I tried to include lots of things for boys, as well, but I'm not sure how successful I was.
Please use your brain and some common sense. Don't give anything smaller than a toilet paper tube to small children.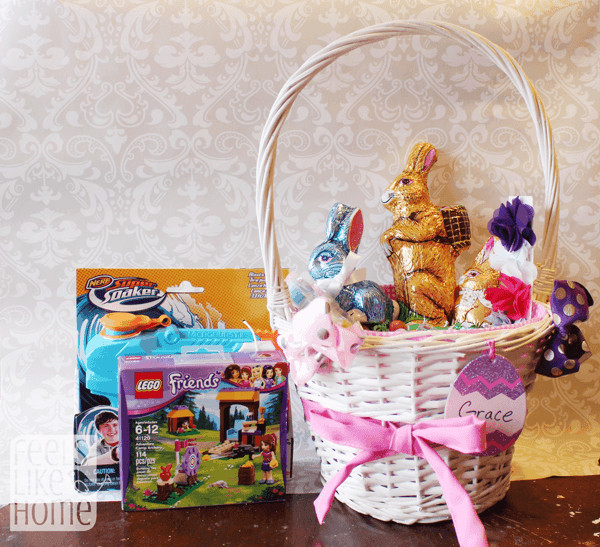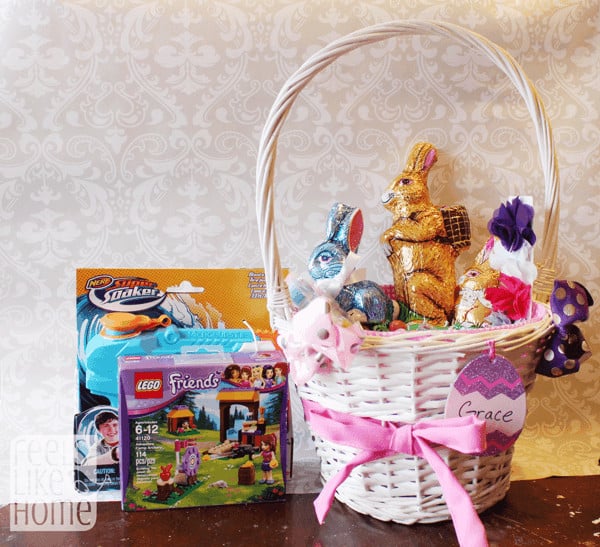 Pin
This post is sponsored by See's Candies in conjunction with MomTrends. All opinions are my own.