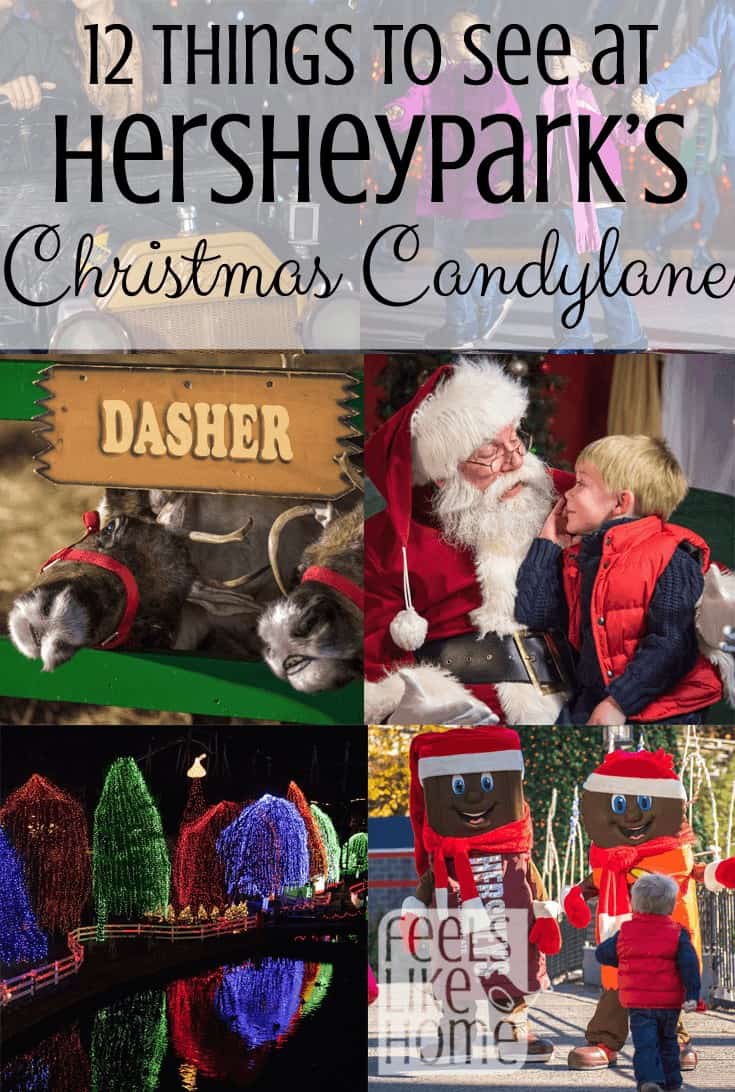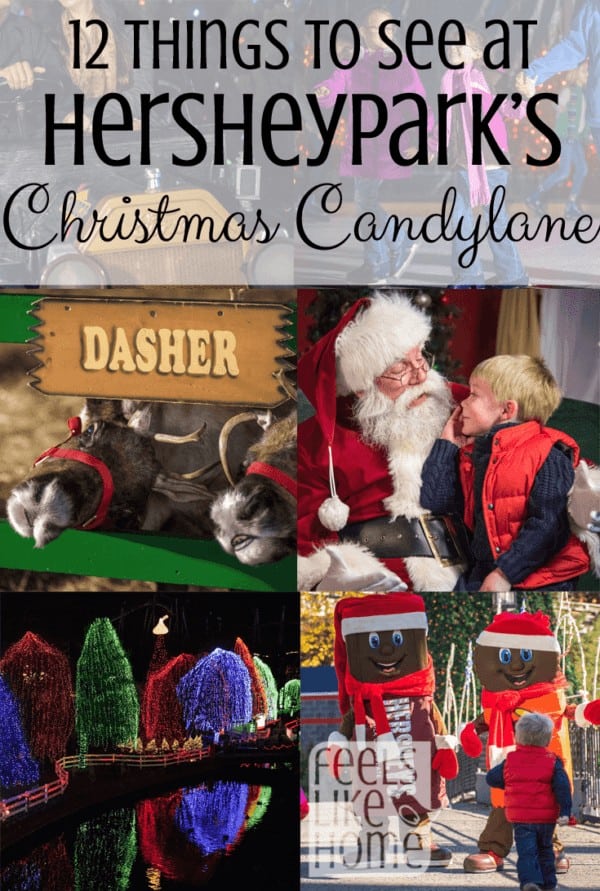 Pin
My family is a warm weather crowd. We don't particularly like to go sledding or skiing or even hiking out in the cold. It's just not our cup of tea.
Thus, even though we've had season passes to Hersheypark for years, we have never gone during Christmas Candylane.
Not even once.
We go in the spring when the weather gets warm, all summer and fall, and then we stop except for an occasional trip to the zoo.
Last weekend, when I was at the #SweetWelcome weekend, I experienced Christmas Candylane for the very first time.
I was in awe.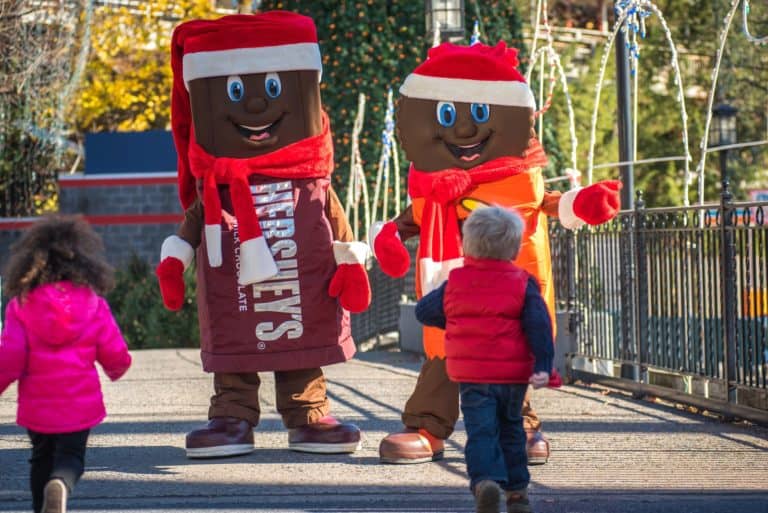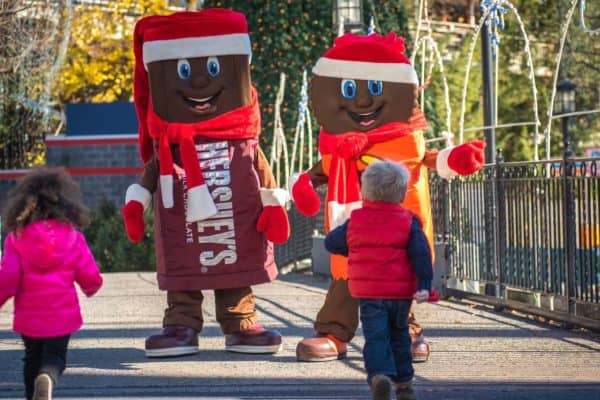 Pin
First of all, Christmas Candylane is beautiful. The park is always clean and nice, but at Christmas, it sparkles. We went when the park opened on a Friday night, so it was already getting dark. Millions of Christmas lights twinkled welcome as we walked the familiar paths.
I am definitely going to make time to take the kids this month. I can't believe what we've been missing all these years.
Here's what to look for when you go to the park:
The Christmas lights. I'm not joking when I say there are millions of lights. It would be fun (and beautiful) just to walk the park and look at all the lights.

NEON light shows. These are not the same as the lights throughout the park. Every half hour starting at 5pm, all the lights along Spring Creek in the Hollow (from Super Dooper Looper to the Tea Cups) flash on and off to music. There are four different shows to watch, so it is worthwhile to stop back a few times throughout the night. Stand on one of the bridges for the best view.
Music Box Christmas at the Music Box Theater. I always joke that my kids are like senior citizens because they prefer seeing shows to riding rides. They especially love shows with singing and dancing, leading me to believe that they will love this new one. About two sisters who find a magic music box in their grandma's attic, it lasts about 45 minutes and takes place in the (heated) Music Box Theater.

The steam train. The steam train is one of my favorite rides in the whole park. During Christmas, it is especially wonderful because almost every inch of the path is covered with light displays. Can you tell that I'm really into lights?
The rides. Almost 50 rides are open during Christmas Candylane, including 5 coasters. All of my favorites are on the list including the steam train, monorail, antique cars, and Skyview. (I'm quite the thrill seeker, can you tell?) Also open are the ferris wheel, carousel, and more. There's a ride for everyone.

Santa. You can see Santa at Christmas Candylane. There's even an option for breakfast or lunch with Santa at Hersheypark Place for an additional fee. I think you have to schedule this in advance.

Santa's reindeer. I loved seeing the reindeer, and I learned so much about them from the zoo naturalists on hand taking care of them. Reindeer are covered with fur - even on the bottoms of their feet and on their noses - and they are much shorter than I imagined. There are 9 reindeer at Hersheypark including Rudolph (although his nose only glows when it's needed). You can't pet or interact with the reindeer, but you can see them up close and ask lots of questions.

Hot chocolate. For $10.75, you can buy a refillable hot chocolate mug that gets you free cocoa for the entire day plus 99¢ refills for the whole season. (There's also a season pass option with totally free refills.) This is the richest, creamiest hot chocolate you will ever drink. I drank a lot of it while I was there. Amazing.

Skating. Near the reindeer, there is an area of roller skating and another for ice skating. I think skate rental was $3 and you can skate as long as you want. The areas aren't huge, but they are big enough (and cheap enough) to let the kids have at it for a little while.

Christmas story time. One of Santa's elves tells a holiday story at the Cookie Workshop on Kissing Tower Hill periodically every day.
Our Friends from the Sea. This is my favorite show at Hersheypark, and it doesn't end with warm weather. The California sea lions head back to Wisconsin for the winter, but the two harbor seals (Bumper and Mango) stay year round and perform on the weekends.
King-sing milkshakes. These are available year round from Simply Chocolate (by the Skyview), but they have a special shake just for Christmas Candylane. It's astonishingly huge. And also amazing.

There are so many more things to see and do at Hersheypark's Christmas Candylane, and I didn't even touch on Chocolate World which is right outside the park. I can't believe we've missed it so many years, but I'm super excited to go back with Joe and the girls!
Check out my other tips for Hersheypark:
Hershey Entertainment & Resorts paid for my trip to Hershey including accommodations, food, and all entertainment. I was treated like a VIP, but I was not paid. All opinions and text are my own.