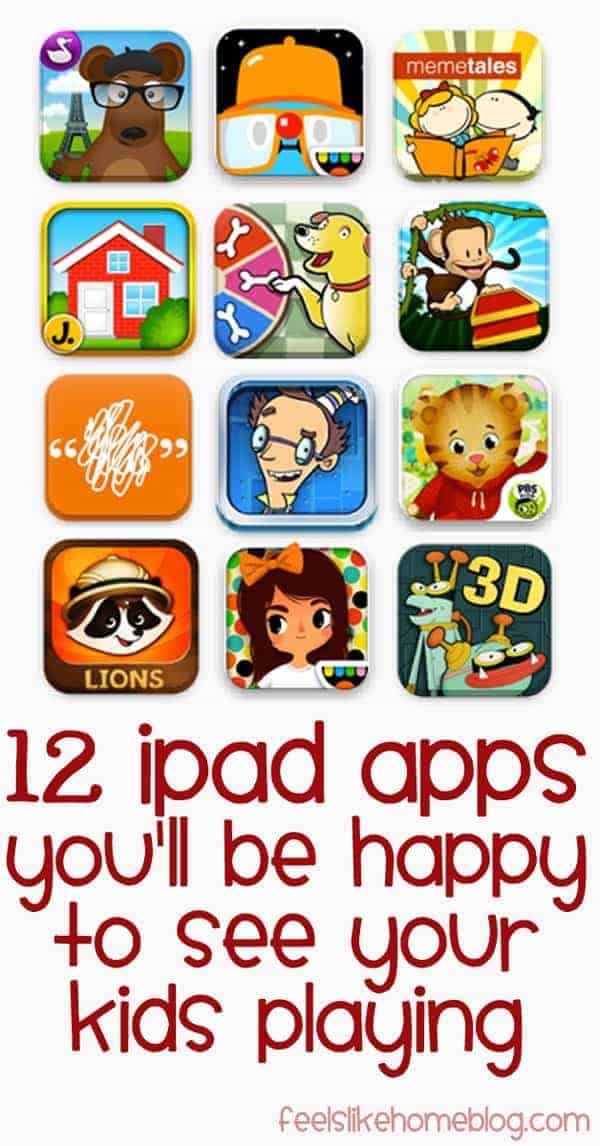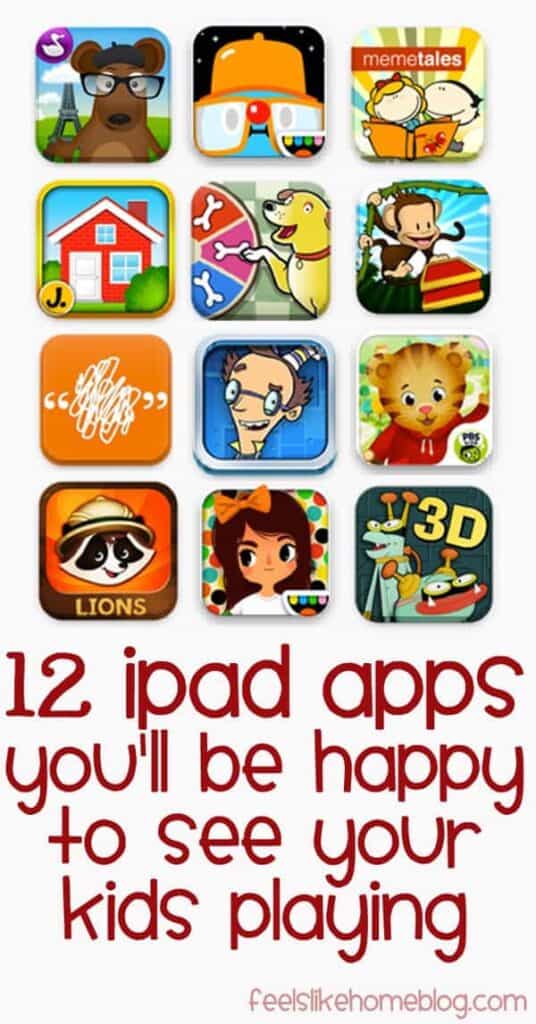 Pin
If you've been reading for a while, you know how enamored my kids are with the iPad.
They are veritable technophiles, those two. I've started hiding the iPad most of the time because I want them to do something besides sit and play with it.
The apps they use are awesome and educational, but too much of a good thing and all that. I limit their iPad usage to times when we're out (doctor's appointments, restaurants, etc.) and quiet moments when I'm involved with their sister. That's pretty much it.
Anyway, I am happy to see them playing with the following apps. They're all solid, educational (mostly), and engaging. Only the last 2 allow in-app purchases, and I've never seen ads in any of them.
I talk about which kid prefers each app below. Grace is almost six, and Allie is two and a half.
Disclosure: I received apps 1, 7, and 8 for free from PR reps. I probably would have purchased them myself eventually, and I only recommend them to you because my children absolutely love them.
Ranger Rick Jr. Appventures: Lions - Ranger Rick is synonymous with awesome, educational, engaging content, and this app does not disappoint. There are so many different things to do in this app - music, stories, a scavenger hunt, hide and seek, and more. Both Grace and Allie love Appventures, and we're hoping it's the first in a developing series. $4.99.
Toca Tailor - Grace used her allowance to buy this app because I said I wasn't spending another dollar on iPad apps. She loves it. It's more or less a dress-up game, but you get to design the whole outfit from the textiles up to the silhouettes and accessories. Allie plays this one, too. $2.99.
Martha Speaks Word Spinner - This is sort of a virtual board game that has six mini games focusing on vocabulary and storytelling. Grace loves the content and the games. Allie loves spinning the spinner mostly, but she plays the mini games, too. $1.99.
Word Wagon - I really like this one. It has different levels, so Allie can learn letter names and sounds and Grace can learn how to spell up to 6-letter words. It's by Duck Duck Moose, one of our favorite app makers, so everything about it is top-notch. $1.99.
Monkey Preschool Lunchbox - When Grace was littler, she loved this app. She doesn't play it as much any more, but now Allie loves it. It's a series of mini games that teach numbers, colors, and shapes. $0.99.
Fizzy's Lunch Lab Fresh Pick - This one is a series of 8 (challenging) mini games dealing with math, problem solving skills, and reasoning. It's supposed to be for kids 6-8, but Allie loves it. Grace likes it, too, but not as much as Allie. Free.
Daniel Tiger's Neighborhood: Play at Home with Daniel - This app is so simple, I thought the girls would get tired of it quickly. They didn't. The idea is that you can do things with Daniel Tiger in the bathroom, bedroom, and at the doctor's office. $1.99.
Cyberchase 3D Builder - In this one, you create 3-D shapes from 2-D shapes. You have to do each one correctly to move on to the next level. As the levels get harder, they get more complex. This is supposed to be for ages 6-9, but both of my kids (and Joe) love it. $1.99.
Toca Band - I think this is Grace's favorite app right now. Just when I think she has made the most annoying musical composition possible, she tops herself. This app has 48 different sound loops and 16 different characters. You combine them to make music. Most of the music it makes is not annoying (though if you're one of those people who gets irritated by noisy stuff, you should maybe stay away from this one).
Little House Decorator - This one is probably the least educational of the bunch, but it is fun and innocent, so it gets my vote. It's like a sticker book where you can decorate houses over and over. There are 4 houses and over 100 stickers that you can place and delete and move over and over again. $1.99.
MeMeTales Children's Stories and Picture Books - My kids adore books; we read (and read and read and read) every day. We've had MeMeTales since the day it came out, and it has never, ever disappointed us. There are a lot of free books (a new one each week plus a slew of them standard), and it includes stories you won't find anywhere else. Every single story has a Read to Me option, which we all love. Grace also loves the iBooks and Kindle apps, but most of those stories do not have a Read to Me option. All three apps are free but offer in-app purchases. Many of the stories on MeMetales cost 99 cents; stories on iBooks and Kindle are generally more than that.
Scribble Press - This is a really cool book-making app. You can use one of the 50 book templates (some with MadLib-style stories) or create your own story from scratch. You can buy a hard copy of your book or save the creation to iBooks, but Grace simply enjoys making them. $3.99 and offers in-app purchases.
More iPhone and iPad Apps We Love
The 10 Best Preschool Apps for iPhone and iPad
22 Educational iPhone and iPad Apps (only a couple of duplicates from the above)