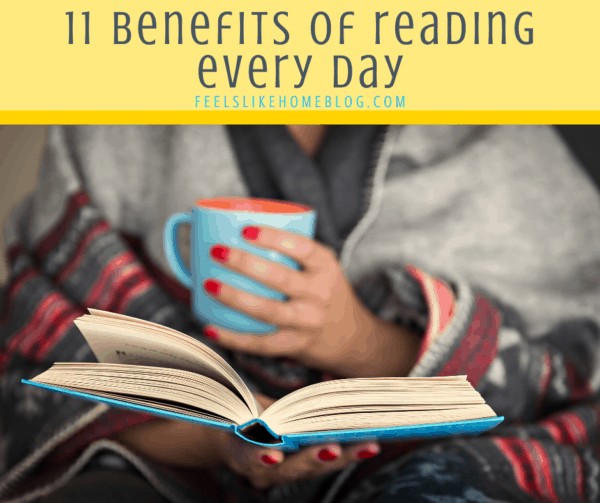 When was the last time you read an actual book with a story? How about non-fiction to challenge or inspire you? I'm not talking about scrolling through Tweets or Facebook updates, either, but real reading with words and paragraphs and pages. If you're like most people, it was at least a year ago, but it turns out that establishing a daily reading habit has benefits way beyond entertainment, motivation, or inspiration.
I talk about reading pretty often here on Feels Like Home, from sharing my yearly reading challenge packet to my list of audiobook recommendations to list after list of children's books. I talk about reading because I love reading, whether reading with paper pages, on my Kindle Fire, or listening to an audiobook. It all counts, and it's all great for your brain.
Try out Audible with a free trial - you get 3 books every month for just $14.95!
As a kid, I read to the exclusion of all other activities. My sister would go outside and play, but I would lay in my bed reading. This continued well into high school, but it fizzled out when I went to college. When I was required to read large volumes of texts, I largely stopped reading.
Fast forward to my life as a single woman. I read on and off, not knowing or caring what the benefits of reading could be. I read about women in Saudi Arabia and the 9/11 terror attacks (my very first ever Amazon order!). I joined the Paperback Swap club and sent and received used books from all over the country. I read great novels like Divine Secrets of the Ya-Ya Sisterhood (so good) and Memoirs of a Geisha and The Five People You Meet in Heaven and great non-fiction like Bird by Bird and eventually, all things pregnancy and baby-related.
My interest in reading about women in the Middle East persisted, and I was moved by A Thousand Splendid Suns just after Grace was born. I remember holding her in one hand and reading that book with the other. Soon after that, I discovered Jennifer Weiner and Randy Pausch and Sally Clarkson and Catherine Newman.
Beyond that, well... I had two small kids by that time. I kept buying new books, mostly non-fiction, in the hopes that I would eventually read them, but they mostly just piled up on my bookshelves and in my Kindle library. I do remember somehow managing to finish The Pioneer Woman's Love Story (delicious!), One Thousand Gifts, and Siblings Without Rivalry during that time. I think I did a lot of reading while sitting on the toilet, sometimes pretending to go and sometimes really going.
And then, my boss recommended I read Outlander on vacation, and I was again hooked by reading. I devoured all eight of the 1,000+ page Outlander books as well as some of the Outlander novellas in under a year, and the habit was reinvigorated in my brain.
As I will discuss below, habits change your brain. The simple act of habit formation rewires the neurons and synapses in your brain and causes them to become highly efficient at continuing that habit. So developing a habit of reading even though I had small children allowed me to continue to find time to read and squeeze reading into every little pocket of free time in my day.
So trust me, sweet friend, when I say that you CAN develop a reading habit. I'm not here to judge you, only to tell you that it is possible. You can do it, and you should do it. Here's why:
11 Benefits of Reading Every Day
Reading teaches you stuff. It might sound silly, but everything you've ever read has taught you something. It doesn't have to be non-fiction to be educational either. Historical fiction is ripe with details about the past, and even contemporary fiction can impart good information about interpersonal conflicts and how people react to one another. Stories jog our memories and inspire us to be and do better. We learn from everything we read.
Reading expands your vocabulary. This goes along with teaching you stuff, but it's worth a separate bullet point. The more you read, the more words you absorb. The more words you absorb, the richer and more varied your vocabulary. Being well-spoken is good for you personally and professionally, as more articulate people tend to have better self esteem and end up with better jobs.
Reading reduces signs of stress. We all experience stresses whether they're with difficult people, taxing jobs, or just everyday life. Losing yourself in a good story is a quick way to escape these stresses and think about someone else even if only for a few minutes at a time.
Reading helps you fall asleep. Reading fiction for just six minutes before lights out reduces stress by 68% and makes it much easier to fall asleep. The researcher in this study hypothesized that it's because you enter an altered state of consciousness when you read, and that is like a bridge to sleep.
Reading can reduce symptoms of mild depression and anxiety. This is not to say that you should avoid treatment for depression and anxiety, definitely not. But it is true that the distraction that reading provides can help with sad or anxious feelings in the short term, and often these feelings will resolve themselves if you don't focus on them.
Reading keeps your mind sharp. Studies have shown that reading and doing other complex mental tasks (like chess and crossword puzzles) can slow and possibly even prevent Alzheimer's and dementia in the elderly. In fact, the primary researcher in this study says that not exercising your brain almost certainly leads to losing brain power. Reading is like exercise for your brain and imagination, and it can play a role in keeping your mind sharp as you get older.
Reading improves your memory. The more you read, the better you get at reading, and a big part of reading is remembering characters, details, and plot twists. The theory of neuroplasticity says that the more you use certain functions in your brain, the stronger the neural pathways that create those functions get to be. It's why habits are so hard to break; they are like well-worn paths that your brain prefers to follow. Reading makes memory a habit in your brain and helps you to remember more things even when you're not reading.
Reading improves your focus and concentration. Another habit that can be developed by reading more is that of focusing on one single thing. In a time when we are all constantly distracted and feel a little ADHD, it is rare to allow ourselves the luxury of concentrating on one thing at a time. Reading demands focus and attention, so if you're doing it, you're practicing those skills.
Reading increases mindfulness. Mindfulness is the practice of being here now. When you are engrossed in a good book, you are all here now. As I mentioned above, reading helps you to practice focus and concentration, and those are both key components of mindfulness.
Reading improves your writing skills. Everyone has to write, from scientists to truck drivers to bloggers. We all write every day, and the more words you see, the better your own writing skills become. You will learn sentence syntax and writing conventions and even some grammatical pointers through exposure to other writers' words.
Reading is free entertainment. Reading can be free if you use your local public library (unless you have fines like me - then it might be cheaper to buy the books), and most public libraries also offer ebooks on loan (no fines!). Reading a good book is every bit as entertaining as watching tv or a movie, and as you've seen above, it is much better for your brain.
There are so many reasons to start reading; I've just put down a few above. If you can squeeze out just five minutes a day, you can start to read a good book. You'll get the benefits of reading no matter what you read, so start today with something that interests you. And if you find a book you don't like, you have my official permission to ditch it and find one you like better.
Resources to Help You Reap the Benefits of Reading
For more self care recommendations (including more book reviews), check out the Self Care Index.