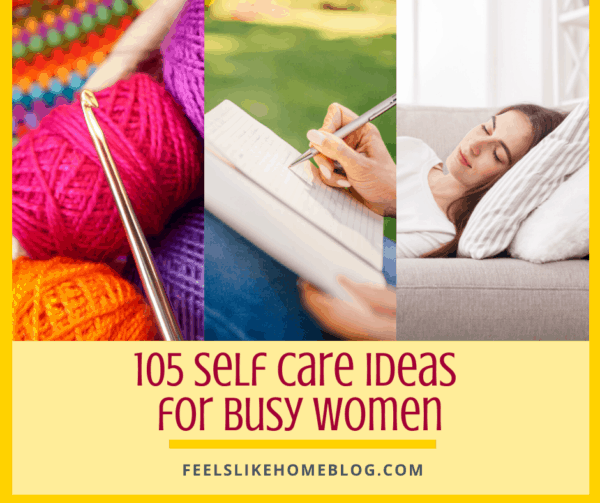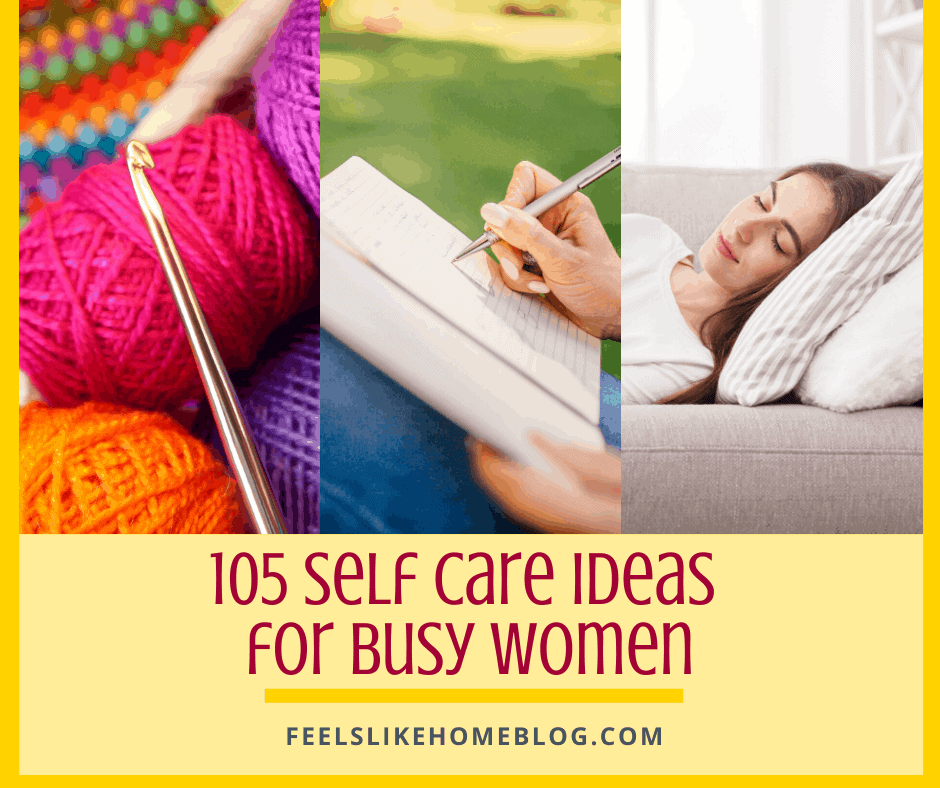 How do you love yourself?
I mean, like, how do you take care of yourself when you're busy or stressed? My therapist calls it self-care. But anyway, what do you do?
Until very recently, I was very bad at self-care. I had two main self-care strategies until now: eat and spend money.
Neither of these strategies has been particularly helpful since I am trying to lose weight and get my finances in order. They might make me feel better in the short term, but they have the opposite effect in the long term.
So. What are we going to do to take care of ourselves?
I started keeping a list in my planner of all the little things that strike me as pleasant and enjoyable. Here's what I've come up with so far.
105 Self-Care Ideas for Busy Women
Knit on my loom.
Read a book. (The Outlander and River of Time series have been my favorite recent reads. Both delicious fiction.)
Or, listen to an audiobook. (Here are my favorite audiobooks for women.)
Listen to soothing music. (I love the piano music of David Nevue!)
Exercise. (I am so not there yet. But I know some people find it enjoyable.)
Cuddle with a pet.
Breathe deeply and slowly, focusing on the breaths.
Do something nice for someone else.
Listen to worship music. (My favorites are Ellie Holcomb, Aaron Shust, and Cedarmont Worship for Kids - don't judge. I like Cedarmont because they are collections of popular music but sung by kids. I like the collections, okay?)
Write or journal.
Paint.
Do a craft.
Play with sand.
Hang out with friends.
Dance.
Spend time in nature.
Go for a hike in the woods.
Go for a bike ride. (I hope I'll be light enough some day to ride my bike again.)
Walk in a creek.
Work in the garden.
Sit in the garden.
Swing on the porch swing.
Jump in mud puddles.
Take photos of something beautiful. (Not the children, that would not be relaxing at all)
Go swimming
Play a game.
Play a board game.
Play a card game.
Run around with the kids. (I'm on the fence with this one. Doesn't sound that fun to me, but the idea of it sounds good. That probably doesn't make any sense at all.)
Eat a small amount of something - single mindedly. Focus on the food and only the food and stop at the end. No going back for more. (Don't think I could handle this.)
Visualize Jesus caring for me in that moment.
Pray.
Sing.
Do something I'm good at.
Watch the fish or the turtle swim around.
Sew.
Draw a picture.
Take a nap.
Watch a funny movie.
Watch a favorite movie (I'm a huge chick flick fan - Return to Me, Sabrina, You've Got Mail, While You Were Sleeping, The American President, How to Lose a Guy in 10 Days. I could go on forever.)
Listen to music of the rainforest, river, ocean, or thunder and lightning.
Go fishing. (Not my thing but Joe loves it.)
Give myself a mini massage with essential oils.
Write in a gratitude journal.
Help someone in need.
Help my husband do something.
Give someone a hug.
Take a mental vacation to somewhere you love. (Beach anyone?)
Laugh.
Take a long shower.
Play with Play-Doh. (It's not just for kids.)
Talk to someone you trust.
Go for a walk around the block.
Listen to the birds. Outside or music.
Wrap up in a soft blanket.
Color in an adult coloring book.
Watch a candle flame for a few minutes.
Look at a photo album or scroll through the photos on your camera.
Listen to wind chimes outside or music.
Smell a flower.
Walk in a garden.
Brush or comb your hair. (Is this lame? I like combing my hair, but only when it's wet.)
Write a note to a friend using a card and nice pen. (Pilot G2s are my favorite.)
Call someone on the phone.
Drink a cup of tea or coffee slowly, noticing every sip.
Say "I love you" in the mirror. (Lame, lame, lame. But it works.)
Drink a glass of water with lemon, grapefruit, cucumber, or mint.
Stretch.
Meditate on a Bible verse for 5 minutes.
Have a picnic. (This would be stressful for me.)
Read a magazine.
Delete old emails.
Lie down for 5 minutes with your eyes closed. (If you fall asleep this fast, you are not getting enough rest at night.)
Get enough rest every night.
Binge-watch a tv show. We love When Calls the Heart.
Paint your fingernails or toenails. (I would have said go get a pedicure, and I still love that, but I have read some disturbing things as of late about nail salons and human trafficking. I'm steering clear for now.)
Take yourself out on a date.
Make a vision board.
Organize a corner or drawer.
Buy yourself a bouquet of flowers.
Bake something.
Get a massage.
Do a brain dump. Write down all your thoughts for 5 minutes with no filter at all. Just write.
Sleep in.
Lay on a blanket in the warm sunshine.
Write a love letter.
Tell someone no.
Do something fancy with your hair.
Get a haircut.
Have your hair styled at a salon or dry bar.
Gaze at the stars.
Reconnect with someone you haven't talked to in months or years.
Give yourself a scalp massage.
Make an appointment with a therapist.
Change your bedding.
Make a list of all the things you love.
Try a new recipe. And if it goes badly, go out for dinner with no regrets.
Do a puzzle.
Squeeze a stress ball.
Drive somewhere new.
Feed the ducks.
Smile. It has to be a real smile, the kind that makes your eyes squinty.
I put these and a few more into a pretty printable list of self-care ideas that you can save. The printable is great for hanging beside your desk or on the refrigerator, and it will remind you to take a few minutes or an hour (an hour?!) and care for yourself before tackling all the needs and wants and commitments that you have.