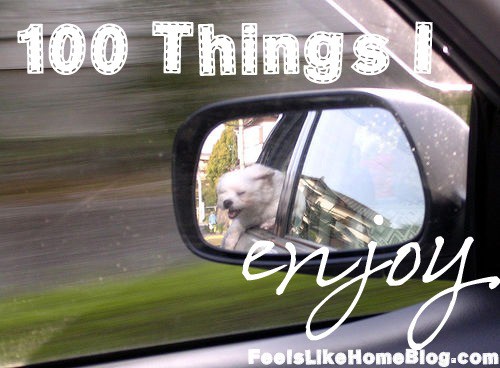 Pin
Read more of the 100 Things I Enjoy.
What do you enjoy? If you're thinking about making a list of your own, do! Please come back and share your post in the comments.
81. Listening to Joe and my girls laugh and play together. As I write, I can hear the three of them laughing and carrying on upstairs. He says, in a pretend stern voice, "I am not a jungle gym!" and Grace giggles and he hoots and Allie laughs her silly baby laugh, and I just sit back and listen to a sound that tickles my soul.
82. Folding laundry with Joe. Okay, maybe it's a stretch to enjoy folding laundry stretch for anyone to enjoy folding laundry, but Joe and I are busy, harried parents of two small girls. Sometimes, folding laundry together is the only quality time we get in a day. It's good time.
83. Building my church's website. I really love working on my church's website. I have been able to help the church create a gorgeous new website that is a lovely representation of our community. I mean, I did all that after I borked the pastor's email for a few days.
84. Laughing. I have not enjoyed a hearty laugh since... I'm not sure when. My sense of humor has been on hiatus for quite a while, but it's back.
85. Watching legal shows on tv. Joe and I watch Harry's Law and Law & Order and White Collar and Covert Affairs and all those smart shows - together. Usually on Tivo since we are old and tired and can't stay up too late.
86. Keyword research. I like researching. There's something about finding answers that thrills me (almost as much as shopping). The best keywords are a perfect combination of high traffic and weak competition, and they are not always easy to discover.
87. Indulging my girls. Today, Grace said something to me that made me sad. She recognized something that should never have appeared before her. I questioned myself. She is not a grown up; she is not even a big kid.
In the hours that followed, I made my Big Girl feel more like a little kid that she has in months. We went to a science museum. We played. I followed her lead, and she led with gusto. We ate lunch in the city at a mall that she found completely impressive.
She fell asleep on the way home.
Just like a little girl.
88. Being offline. I stopped working almost 12 months ago. In the days since, there have been few constants in our lives. I've toyed with working during the days, and it went badly. My trying to work and mother at the same time led to three very frustrated people. It wasn't working.
So now, I am rarely online in the daytime. I might check my email a couple of times or Tweet a few times, but for the most part, my laptop is closed. I live offline, except for my work time in the evenings.
I like it that way.
89. Watching Penn State football. When I was in college, I watched every single game every single season. I don't get to watch as many these days, but I catch most of them. I really like football.
90. Harassing my husband (in a good-natured way). When our marriage is strong, Joe and I tease each other. It's our way of bonding, of flirting, of making nice. We gently rib and kid and tease, and we air our grips and deal with them. We've just started doing this again after a long (painful) pause.
Stop back for the last 10 items next Friday.