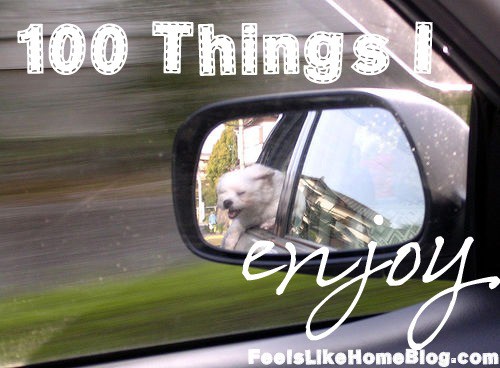 Pin
Read more of the 100 Things I Enjoy.
What do you enjoy? If you're thinking about making a list of your own, do! Please come back and share your post in the comments.
61. Devotions. I like reading about other people's experiences with the Lord, about their interpretations of scripture. I go to a mom's group one morning a week where we read and process a devotion together. Good times.
62. Flirting with my husband. Flirting just makes everyone feel good, doesn't it?
63. Teaching. I have come to realize that teaching doesn't have to happen in a classroom in front of 30 teenagers. There are so many other ways to teach, through workshops and conferences, through personal consultations, and even through this blog.
I gave a workshop on search engine optimization to a group of Philadelphia bloggers this past weekend. Teaching makes me feel alive.
64. Shopping for school supplies. Does anyone else just love this? Give me an hour in Staples, and I'm in heaven. Back to school shopping? My kids don't go to school, but I can't stay away from back to school shopping.
65. Cleaning up. I don't know anyone who loves housework, myself included. But I like picking up and making progress and making my home look better. I like to have a neat space for my husband to come home to. Our home may not be perfect, it may be dirty around the edges, but I make a dent where and when I can.
66. Eating fondue. Joe and I like to eat at The Melting Pot. It's super expensive, and we can't afford to go more than a couple of times a year, but we really love it. We celebrated our fifth wedding anniversary this summer at The Melting Pot.
67. Standing up for myself in a bad situation. We were treated badly in a restaurant a few weeks ago, and I took the issue to Twitter and then to the corporate office. A few days later, the whole thing was resolved to my satisfaction, and it was over. I was happy that I stood up for myself assertively and politely, and I was happy that the restaurant and its owner took my complaint seriously.
68. Getting a manicure. Having pretty nails makes me happy.
69. Getting a massage. The first time I ever got a massage, I was a little intimidated. No clothes, sheet, massage table, eek! I wasn't sure I could do it, but I did. And I loved it. I'm typing this tonight with a muscle spasm in my right shoulder, muscles aching, begging for a massage.
70. Giving things away. I have so much stuff. It's incredible and excessive and embarrassing. We are slowly getting rid of things, slowly purging and donating and giving away. I like to give things away. I like to give my stuff to help people who don't have stuff. It just makes me feel good.
Stop back for 10 more (hopefully unique) items next Friday.