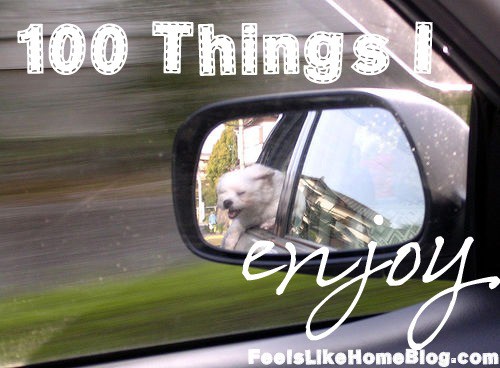 Pin
Read more of the 100 Things I Enjoy.
What do you enjoy? If you're thinking about making a list of your own, do! Please come back and share your post in the comments.
51. Our homeschool routine. Our school year officially started this past Tuesday, and we have "done school" every day this week. It's our first period where we've worked consistently, and it has been very good. We are working into a routine. I like it.
52. Walking around a big city like New York or Chicago or Philadelphia. There are so many interesting things to see in a city.
53. Reading the Bible. Like it or not, much of our culture is based on stories and truths in the Bible. Reading it is like understanding the foundations of our society. And then there's the bonus of understanding God's word and all there.
54. Eating a great big brownie, especially if it involves caramel and ice cream.
55. Practicing gratitude. I practice saying thank you every day. I thank people for their words and services, and I really mean it. We can't get by without helping others and accepting help, too.
56. Long, hot showers. These days, it's a challenge to get a shower every day (or even nearly every day). If I actually have time to luxuriate in a long shower, it's a very good day.
57. Researching things on the internet. I'm may be a nerd, but I love looking things up and scouring information to find the answer.
58. Talking to small children. Children have a world view that is unique and unfiltered and honest. I love talking with them and listening to them, including my own.
59. Seeing the bright blue sky and fluffy white clouds on a bright sunny day. You know the kind of blue that is deep and azure and looks like the water in the Caribbean Sea? That's what I'm talking about.
60. Watching ducks. I love both ducks and geese, but I've been chased by enough geese to make me prefer ducks. My mom raised ducks when I was small (both Pekin and Mallard), and I have loved them ever since. They are so peaceful and calming, and nothing I know is as cute as a flock of baby ducks.
It's getting harder and harder to come up with unique items, isn't it?
Stop back for 10 more (hopefully unique) items next Friday.