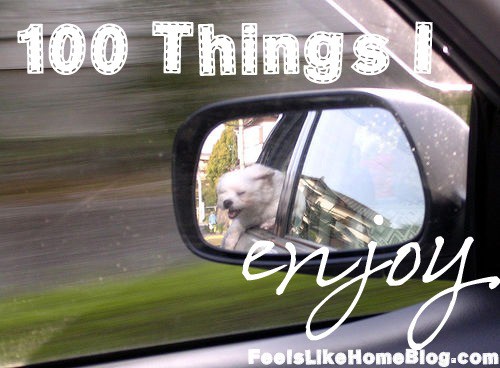 Pin
Read more of the 100 Things I Enjoy.
What do you enjoy? If you're thinking about making a list of your own, do! Please come back and share your post in the linky, which will remain open through Saturday night.
31. Sharing knowledge with my kids. We visited Strite's Farm last Saturday, and Grace said, "There is just so much to learn here!" My heart swelled with pride that she wanted to learn about growing food, and that she wanted to learn from me. We talked about tomatoes and blossom rot and flowers and berries and mountains and all kinds of other stuff. It was a great day and a nice reminder of my children's newness in the world.
32. Road trips with girlfriends. Back in June, 3 friends and I were able to roadtrip to the Type-A Parent conference in North Carolina. What a wonderful time we had, chatting and laughing. Even though our fancy Dodge Caravan had a 2-DVD player with a split screen, we never turned it on. There was too much visiting going on.
33. Surprises. This one has a caveat. I like to be surprised, but it happens very, very rarely because I am the worst possible combination of impatient, nosy, and a control freak. Still, I like the anticipation and thrill of being surprised.
34. Peanut butter M&Ms and Reece's Pieces. So they aren't at all healthy, but they sure are good. I love to eat these little morsels.
35. Reading a good book. I have a stack of books in my living room, thanks to Border's store closing sale. None of them are fiction, but I can't wait to dig in and read all about mindfulness, free range kids, and a couple dozen other topics. I love to read.
36. "Doing school" with Grace. We have been doing our preschool homeschool for months, but we just started a formal curriculum from Lincoln Interactive. It's half online (which Grace loves; she feels like she's playing games the whole time) and half offline. It's great. After 10 years teaching other people's children, I really enjoy teaching my own.
37. Creating. This is something I haven't been able to do for months and months (or maybe even years), but I love to craft. I love to create projects that are one of a kind. I like to quilt and sew but also to do paper crafts and all kinds of other things. I have Martha Stewart's Encyclopedia of Crafts, and I love to flip through it for inspiration.
38. Predictability. I like to know what's coming up in my day; I like to have a routine, a schedule.
39. Walking on a tiny, relatively unknown beach in Lewes, Delaware. I thought all beaches had tide pools and wildlife. They don't. The groomed beaches in town are full of people and devoid of creatures. This particular one is just nice; it has a nice mix of both.
40. Listening to Jack Canfield's book, The Success Principles. One of the best things to come out of my hospitalization, I got both the printed book and the abridged audio book. Jack Canfield's voice is soothing and strong, and his text is inspiring. This book and the time I spend with it is a gift to myself in every possible sense. It is truly life-changing.
Stop back for 10 more items next Friday.