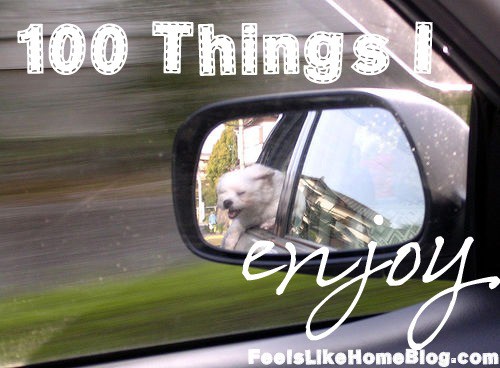 Pin
I look forward to this list each week. It's getting harder and harder to come up with the items, but I know I can keep going.
I've gotten quite a few emails this past week asking me to make 100 Things I Enjoy into a linky, so I did. If you're thinking about making a list of your own, do! Please come back and share your post in the linky, which will remain open through Saturday night.
11. Scrapbook. I love to scrapbook. Scrapbooking has carried me through many depressions over the last 10 years, depressions I never mentioned to anyone. I like to create.
21. Sending emails to Old Grandma. When I was in college, I visited Old Grandma at least once a month, sometimes two or three times; I've only seen her once in 2011. I miss her. A lot. Sending emails to her Presto Printing Mailbox makes me feel more connected to her.

22. Taking pictures. I take 10-20 of pictures almost every day, sometimes more. I love photos.
23. Editing my photos in Photoshop. A little sprucing up in Photoshop makes my photos really shine. Improving my photos makes me happy.
24. Getting a pedicure even if it did chip after only 2 weeks. A foot massage, an hour of quiet time, pretty feet... What's not to love?
25. Watching a hummingbird. There is something inherently soothing about hummingbirds, don't you think? I love them. We don't have feeders at my house; that would feel like luring them to an untimely death. My mom and Old Grandma always have feeders out; I love to watch the birds and listen to their chirping.
26. Science. I love learning science, doing science, and knowing science. I love sharing science with Gracie. It's just magnificent, cool stuff.
27. Watching the life cycle of a caterpillar. You know that commercial you've seen for the butterfly garden? I bought one. Our caterpillars arrived last Friday, about the size of large grains of rice. Today, they're enormous, fat worm-looking things and some have already formed cocoons. By tomorrow, I think they'll be rigid chrysalises. Absolutely amazing.
28. Playing in the bathtub with Grace. I don't actually get into the bathtub with her, but I sit outside and talk and play with her. I don't do this for every bath, but I always enjoy it when I do. She always serves me lemonade (made from bathwater), and I always compliment her recipe.
29. Driving with the windows open. Pure freedom.
30. Having a good laugh. Laughter is good for the soul, right? Laughing feels good, especially when I share it with friends. I've made some real, loving friendships with other people in my therapy group, and we laugh a lot when we're together. We're all struggling through hard things, and the laughter breaks the tension, helps hearts to heal. I love it.
Stop back for 10 more items next Friday.