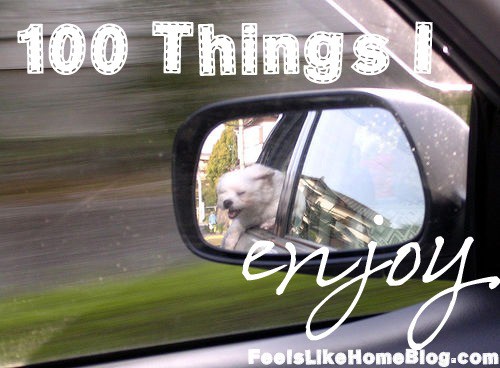 Pin
Last week, there was one day when I cried all day long. I woke up feeling fine (before my kids were up!), but I hadn't slept well and I was convinced that I was making no progress in managing this illness.
I noticed that two people I like had unfollowed me on Twitter. One is a friend, and the other is an inspiration to me. (Of course, in the light of day with some perspective and clarity, it turns out that neither unfollowed me on purpose and both re-followed me, making it a non-issue all together.) It brought me down.
Then the baby wanted to eat, causing me to be late for my group therapy session. I couldn't find the pants I'd intended to wear. One huge, messy complication after another pushed me further and further into hopeless sadness.
By the time I dropped the girls off at my friend's house, I was one breath away from tears. I got them both in the house, backed my car out of the driveway, and the tears began.
They didn't end until I went to bed that night, though I did have brief flashes of normalcy throughout the day.
It is for the sad, desperate, hysterical me that I am taking the time to write down the things that I enjoy. It is on those days when I need this list most.
11. Scrapbook. I love to scrapbook. Scrapbooking has carried me through many depressions over the last 10 years, depressions I never mentioned to anyone. I like to create.
12. Take pictures. I love to photograph flowers and other macro stuff. I have a little point-and-shoot camera that I might have paid $65 for, and it works great. When I take the time to compose a great shot, I get a great shot.
13. Play Scrabble. One of my oldest friends is Dave, with whom I have played Scrabble online for most of a decade. Before Scrabble, we played Upwords together by email, and I find myself (often) wanting to play a Scrabble tile on top of an existing one. It's an old habit. I could pore over my turn all day if I allowed myself.
14. Play Boggle. I'm a word nerd. There have been lots of times in my life when I played Boggle all by myself. The advent of Scramble on iPhone prevents me the embarrassment. I can play by myself any time I want.
15. Play card games. I haven't done it for a long, long time, but I used to love to play Rummy and other card games. I guess I quit playing when life got so busy.
16. Play Yahtzee. Oh, how I love Yahtzee. Old Grandma and I have spent many afternoons playing Yahtzee. I even have it on my Mac's Dashboard. Yahtzee is the perfect game for the analytical part of my brain.
17. Take my girls to the movies. We have discovered the free summer movies in our area, and we are in love. I would never have dreamed of taking Grace to a movie when she was a baby. In fact, her first movie was this month when we saw Madagascar 2. She's been singing I like to move it move it ever since. And Allie? She sits on someone's lap and watches the movie until she falls asleep.
18. Tie dying. This is another love that I just discovered this summer. I got one of this kit at the craft store when it was on sale on the 4th of July, and the shirts we made are fabulous. I already got another kit because we had such a good time doing it.
19. Sudoku. There's a theme here. I like to do things that challenge my brain. When I had free time, I always bought a subscription to Games Magazine's World of Puzzles. The day it arrived in my mailbox was the best day of my month.
20. Watch my turtle swim. I have a red eared slider turtle named Hershey. I've had him since 1998, when I was a sophomore in college. Watching him swim has always made me feel calm and serene.
Stop back for 10 more items next Friday.