I am delighted to be one of twenty bloggers featured in Arm & Hammer's Switch & Save Challenge. During the next five months, I'll be testing several Arm & Hammer products and sharing my experiences with you.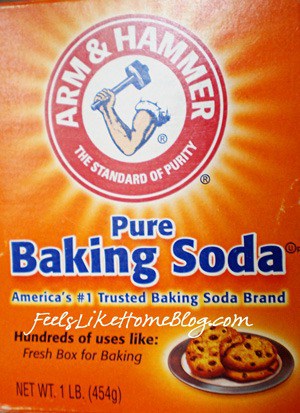 Pin
10 Ways to Use Arm & Hammer's Pure Baking Soda for Baby
Clean and deodorize baby bottles - To remove formula funk from baby's bottles, soak the bottles, nipples, and rings overnight in a solution of 4 tablespoons to 1 quart warm water. Wash with hot soapy water and use as normal.
Deodorize diaper pail - Whether you use cloth or disposable diapers, periodically sprinkle a generous amount of baking soda into the diaper pail. It won't hurt the cloth diapers to wash with baking soda, and the soda will keep odors at bay until you're ready to clean and permanently dispose of the diapers.
Prevent ammonia burns in overnight diapers - When Allie wakes up in the morning, her cloth diapers smell strongly of ammonia, and her skin is red. A generous sprinkle of baking soda in her nighttime diaper prevents the smell and the rash in the morning.
In the bath - This works for grown ups and babies alike. Add a few tablespoons to baby's bath to alleviate diaper rash. (Add a cup or two to a grown up bath for softer, smoother skin.)
Laundry - Especially if you have hard water, add ½ cup of baking soda to each load of laundry for softer, fresher-smelling clothes. Adding baking soda is also good for coaxing out spit up and other tough stains.
Clean toys - Mix 4 tablespoons to 1 quart warm water and use with a clean cloth or sponge to wipe baby's toys clean. Rinse with warm water.
Freshen stuffed animals - Sprinkle baking soda on dry stuffed animals to get rid of odors. Wait 15 minutes, then thoroughly brush or vacuum the baking soda off.
Scrub crayon off of walls - You know, my cherubs would never color on the walls. If they did, though, I might use baking soda sprinkled on a damp sponge to scrub the crayon off without harming the paint.
Freshen baby after eating - Sprinkle baking soda on a moist washcloth and use it to wipe baby's face, hands, and clothing after feed her. Who wants to smell baby food all day?
Get rid of cradle cap - Make a paste with baking soda (a mild exfoliant) and baby oil, and gently rub it into baby's scalp to smooth away flaky cradle cap.
What do you use baking soda for?
I'm preparing 2 more installments of this baking soda series, so your tips may be featured in an upcoming post. Feel free to email me or leave your tips in the comments below.
This is a sponsored post for Church & Dwight Co., Inc, the maker of ARM & HAMMER branded products, who is compensating me to try different products.
Save 50¢ off two 2lb or 4lb boxes of ARM & HAMMER Baking Soda. And be sure to visit The Switch & Save Challenge to tap into more resources and enter to win $25,000.ays to Use Baking Soda for Baby