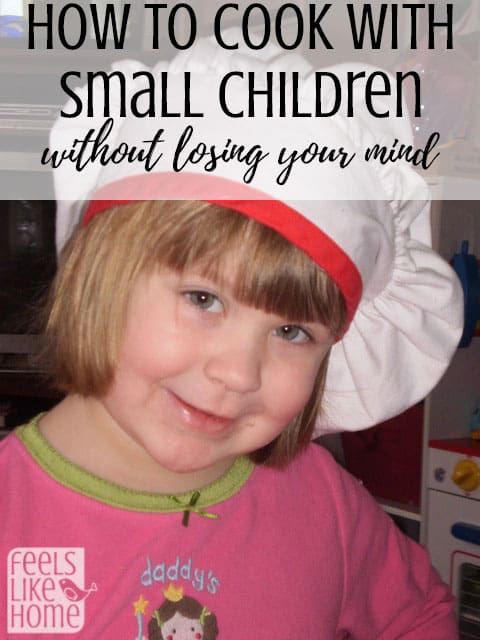 Pin
My kid likes to cook. I dare say she loves it.
She doesn't care whether she's cooking in her play kitchen, or if she's cooking in my kitchen. She just likes to cook.
Whenever I'm in the kitchen, trying to prepare food, Grace wants to help. She pushes her Learning Tower up to whatever surface I'm working at, and she sidles right up next to me. If I'm stirring, she stirs . If I'm chopping onions, she wants to chop onions.
Every parent knows that all jobs are easier without the help of an eager but small child.
I let her help anyway. It builds her self esteem and her self confidence, and someday, she'll actually be a productive helper.
Today, she might flip flour all over me and the counter and the floor, but next time, she'll push it down through the sieve. It's a work in progress.
10 Ways to Get Small Children Involved in the Kitchen
It's important to give children jobs they can do (or at least believe they can do) safely. If you guarantee their success in the kitchen now, they'll take more risks and enjoy cooking later.
Try some of the following to get your kids more involved in the kitchen:
1. Give them tools that are similar to yours. I've gathered small but real items for Grace to use – a mini whisk, knives without a sharp edge, small mixing bowls with handles. I don't give her toy utensils when we're in the real kitchen.
2. Let them put trash in the garbage can.
3. Ask them to help to clean up. Give them a spray bottle of water and dish detergent and a towel.
4. Show them how to tear or break food into pieces. This works well with things like spinach, lettuce, and mushrooms.
5. Help them transfer food from one container to another. Grace loves to put chopped food into a baking dish.
6. Let them rinse or wash tools in the sink, but never give them sharp tools!
7. Show them how to rinse fruits and vegetables. If you have a salad spinner, this is especially exciting.
8. Ask them to set and clear the table.
9. Distract them. If all else fails, give them a few pots, pans, and wooden spoons. They'll stay busy and let you get some work done!
10. Be patient. Remember that little kids may have a very short attention span. They may want to play with the magnets and come back to cook several times.
Don't get frustrated with them; just go with the flow!
How to you include your kids in the kitchen?