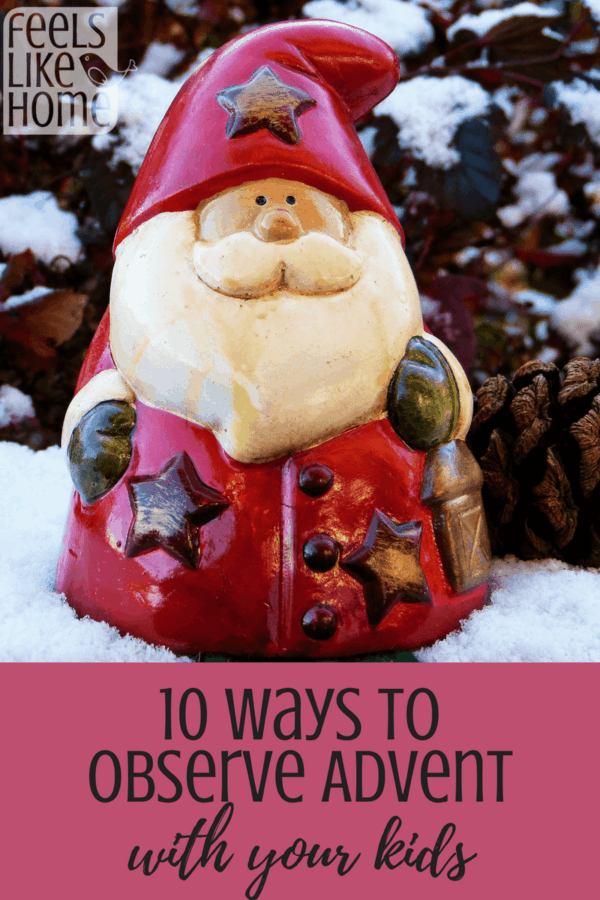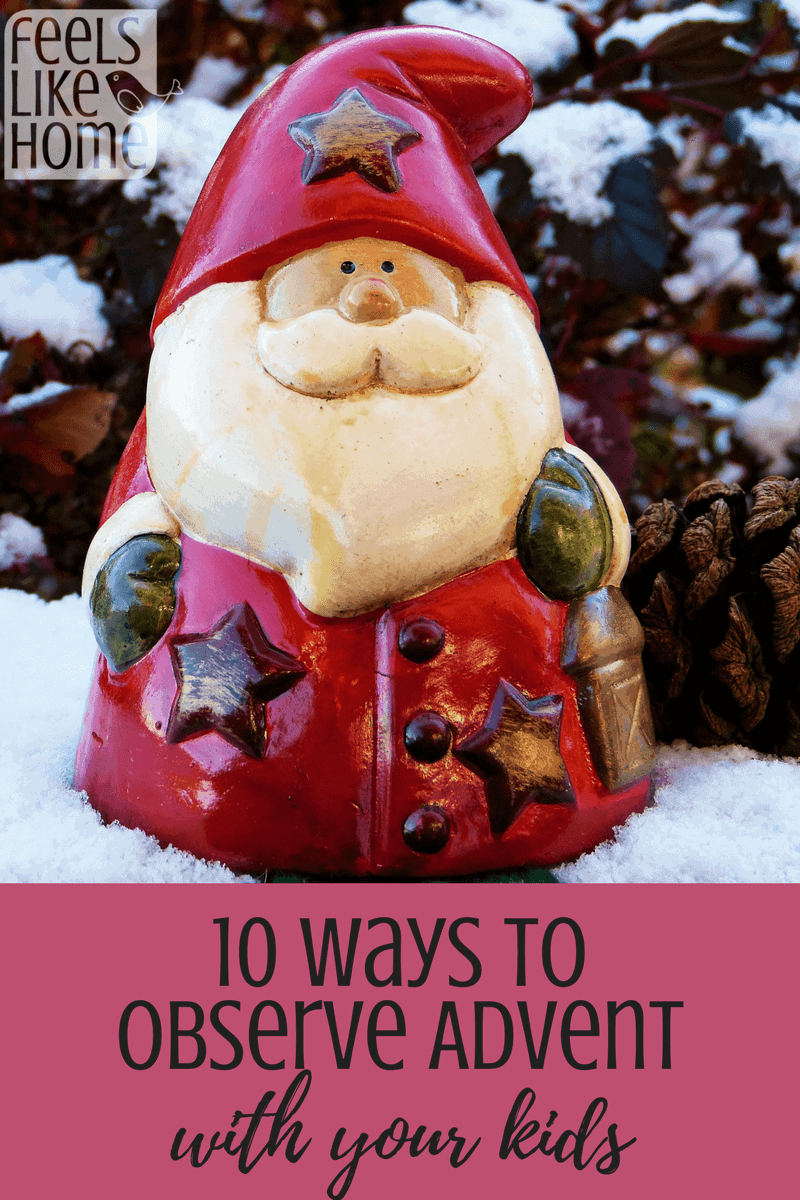 Advent, the month immediately preceding Christmas, is a time of happiness, celebration, and hopeful anticipation of the birth of Jesus Christ.
There's a lot of evidence that He wasn't actually born in December, but that's when we celebrate it, so let's not debate about the timing, okay?
Our Advent festivities begin on the fourth Sunday before Christmas (November 28 this year) but many people celebrate from December 1 to 25.
That means you have time to put something together!
Because Advent is such an important part of our Christmas season, I wanted to share a smattering of Advent crafts and projects that I found around the internet. They range in skill level from very easy to complicated, so I am sure you'll find something that suits your skills and available time.
10 Ways to Celebrate the Advent
Countdown Chain - We wrote activities on strips of paper and linked them together to make a paper chain.

Advent wreath - An Advent wreath has one candle for each week of the Advent. Some people observe it by lighting one candle each night of Advent; some people observe by lighting a candle each Sunday of Advent. We do ours nightly.
You can buy an Advent wreath online and in most Christian bookstores, but you can also make your own. All you need is something to hold your candles - any 4 candle holders will do. You can make your wreath as simple or complex as your skill permits.
Ours is a purchased Advent wreath disguised by a faux evergreen garland and a few sparkly floral picks. Simple, but it does the job.

Jesse tree - We do our Jesse tree and Advent wreath celebrations together, lighting our candle then reading about the person represented by our Jesse tree ornament. The Jesse tree follows the birth of Jesus Christ from Adam and Eve through Abraham, Moses, King David and Joseph. Every evening, we add one ornament to our tree, say a prayer, and read the Bible story (usually from Grace's kids' Bible, but sometimes from my Bible instead) behind that individual.
Like the wreath, there are a plethora of different ways to decorate your Jesse tree, but the premise is always the same.
We use a miniature white tree (so our ornaments will stand out), purchased for under $10 last year, and I made a full set of felt ornaments like this one:

There are so many options for creating a Jesse tree that I gave them a separate post.
Make a paper pocket Advent calendar - Eryn from Mamahall shared a tutorial for making paper pockets that contain Christmas-themed activities. Her tutorial includes activities and scriptures to put inside.

Not feeling crafty? I found a very simple "print and do" Advent calendar online. The idea is similar to Eryn's above, but it's a single page and the activities and scriptures are provided.

Make a craft a day - I love this idea from Bella Dia. The blog's author has a Christmas book and related craft posted for each day of the Advent.  What fun it would be to do each one!

Print and Color an Advent calendar - Especially if you have small children, you can print a picture that is divided into 24 different sections. They color one section per day, and the picture is finished on Christmas Day. My favorite one from this site is a nativity scene, but several are available (free) for printing.

I couldn't skip this one, either. It's from a different web site.

Print a Sticky Note Advent Calendar - I don't entirely understand this one, but it looks really cool. I think it would be appropriate for older kids.

December Daily - This is a very time-intensive and very crafty project that looks like it would be incredibly fun. Basically, you scrapbook one page every day of the month. If I can manage it, I'm going to participate this year. (Who am I kidding? I can't manage it, but I'm going to try.)

Unwrap a book a day - Wrap 24 Christmas books, put them in a fun basket, and let your kids choose one to read at bedtime each night of the Advent. Doesn't that sound like fun?

Buy an Advent calendar - I intentionally didn't provide a link here. There are dozens of Advent calendars on the market. Some contain candy; some contain toys. Personally, I don't love the idea of associating the Advent with a material treat (because Jesus is the treat, n'est-ce pas?), but there are some pretty ones out there.
Looking for more ideas to celebrate the Advent?
Check some of these resources: