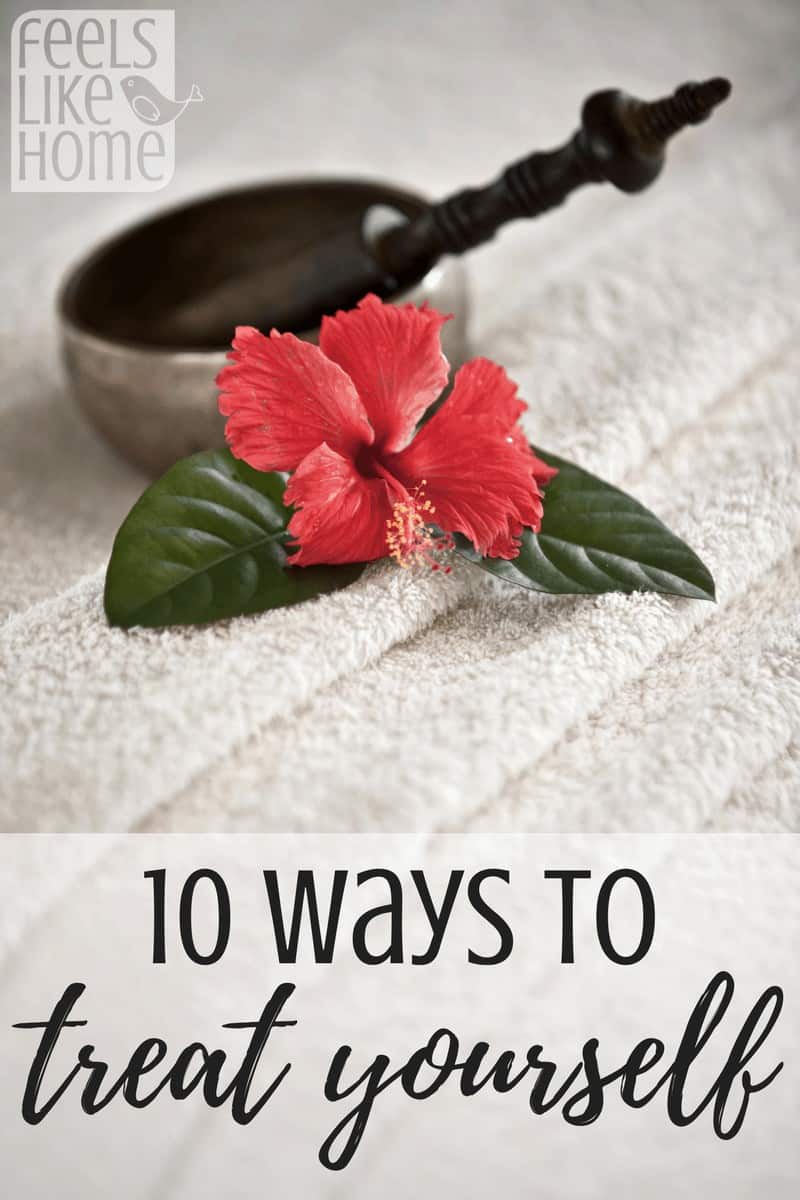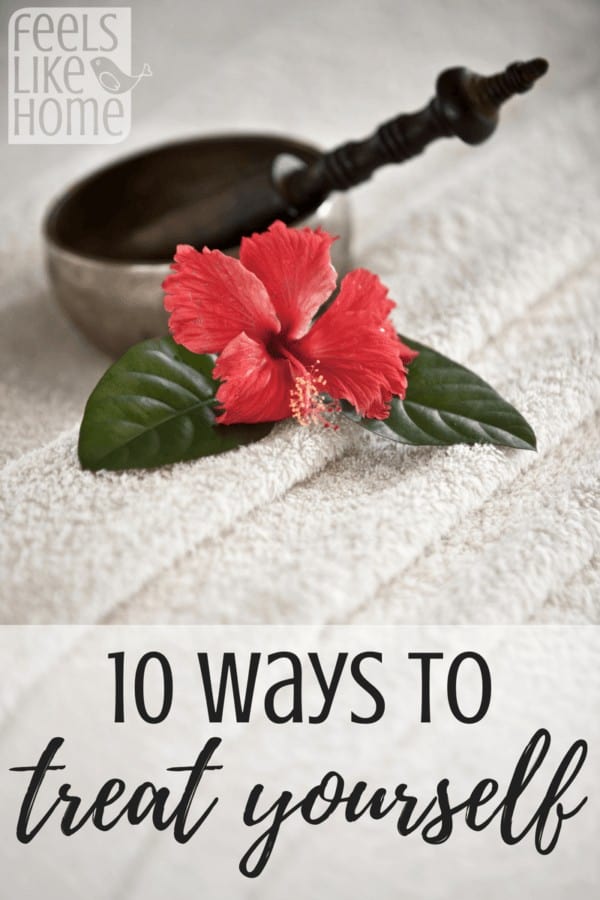 Pin
Every day is packed full. Full of work meetings and blog posts and emails and playing with the kids and Facebook and making dinner and sorting mail and cleaning the house and about a million other things.
I know you are nodding your head right now. The days are packed full. There's not a free half hour when I can carve away time for myself.
Except there really has to be if you're going to be a full, healthy, and happy person.
Maybe the dishes can wait until the morning or your husband can put the kids to bed. Maybe you could skip that tv show you usually watch or vacuum a little less often.
There's got to be something that can give so that you can treat yourself to the time you deserve, time for yourself amidst the overwhelming chaos of everyday life.
You can do it, I promise you. It is possible.
Everything on the list below might not be right for you. Maybe finances are tight and you can't splurge on a pedicure. That's okay! The indulgences I suggest range from free to about $50, depending on where you live. I think you'll find a few things that speak to your heart.
10 Indulgences Every Mom Deserves
Time to breathe. Seriously. If you're used to going, going, going all the time, why don't you start by taking 5 minutes to just sit and do nothing. You deserve to sit and listen to your thoughts and just breathe. If you can't find time for even this, lock the bathroom door and pretend to sit on the toilet for five minutes. It works. I do it all the time. The people will come a-knockin', but just let them wait.
Take up a new (or a forgotten) hobby. Before I had kids, I loved to sew and scrapbook. With all the busy-ness of being a working homeschool mom, I had forgotten about my own creative pursuits. That doesn't make them less important. Take a sewing class. Brush up on your photography skills. Buy a Project Life Kit and enjoy scrapbooking again. Those are the things I did. If your passion is painting or cross stitch or jewelry making or golfing, go with it. Make it happen.
Soak in a bubble bath. In the interest of full disclosure, I personally hate baths. I am a long, hot shower girl all the way, but I don't think long, hot showers lend themselves to the kind of relaxation that a bubble bath provides. Do what works for you.

Enjoy a sweet treat. I am really loving Fiber One® bars right now. They're easy (just open and enjoy!).Fiber One® has come out with all sorts of goodies including brownies, cheesecake bars, and streusel bars. Loaded with real fruit and whole grains, they are a delicious way to have a snack. They're perfect for a mini vacation in the middle of the day, especially when the kids are involved in a tv show or doll house play.
Exercise. I mostly hate to exercise, but I have found a few things (Leslie Sansone walking DVDs and EA Sports Active on the Wii) that I are less bothersome than everything else. I still hate it while I'm doing it, but I feel pretty good afterward and, if I do it often enough, I lose weight. Exercising has all kinds of health benefits, and if you exercise hard enough, you will get a kick of endorphins (or some such hormones) that will make you feel great afterward. Try it. You'll see.
Read a book. For over a year now, I have been enraptured by the Outlander series of books. I read at every spare moment. I bought the Kindle books, so I have them on my phone and can read a page or two at any opportunity. In short, the books are about a woman, Claire, who accidentally goes back in time to the 1700's and falls in love with a Scottish Highlander. It's got a fascinating storyline and a little smut. Best of all, I have to look up words in the dictionary, so reading it feels like something good for my brain. If Outlander isn't your thing, ask for a recommendation at the public library and get to reading.
Get a pedicure. This is my #1 favorite way to take time for myself. I don't do it often, maybe only 2-3 times a year, but sitting in the quiet with my feet soaking in a warm, jet-filled tub hits the spot for me. The bonus is that the toe nail polish lasts for months. I'd like to know their secret for long lasting toe nail polish, but that's a matter for another blog post.
Get outside. There is something about being outside in nature that rejuvenates my tired spirit. I can't explain it. I don't know if it's the fresh air, the sound of the birds, or the warm sunshine, or maybe it's all three. At any rate, spending even a few minutes outside perks me up like almost nothing else.
Lay down. One of the things I miss most from my pre-child days is the ability to lay down and take a nap in the afternoon. Whether you like to take a nap or not, just laying down for a few minutes will give you a chance to relax, breathe, and make some space for yourself in the business of living.
Take yourself on a dinner date. Whether you splurge on a nice meal or sit by yourself at a fast food joint, going for a quiet date alone (with no guilt and no awkwardness!) will refuel you. It's nice to eat your own food while it's still hot without little fingers poking around. You won't have to cut anyone else's food before you eat, and you won't have to worry about rowdy little people embarrassing you in public (please tell me that I'm not the only one).
The key to refreshing yourself, no matter which of the above you choose, is to do it without guilt. You deserve it. You can do it for yourself. Your family will be happier in the end because you're happier and more fulfilled.
Try it.
I promise you'll like it.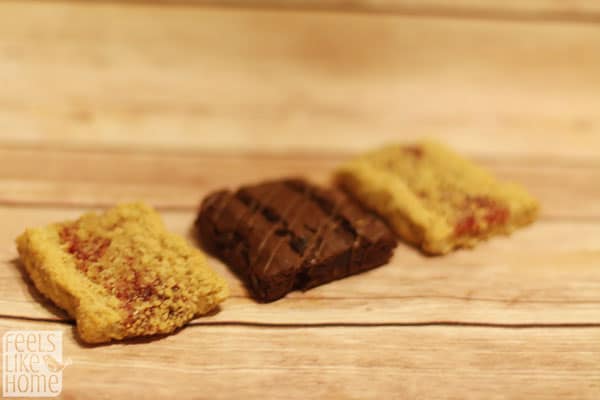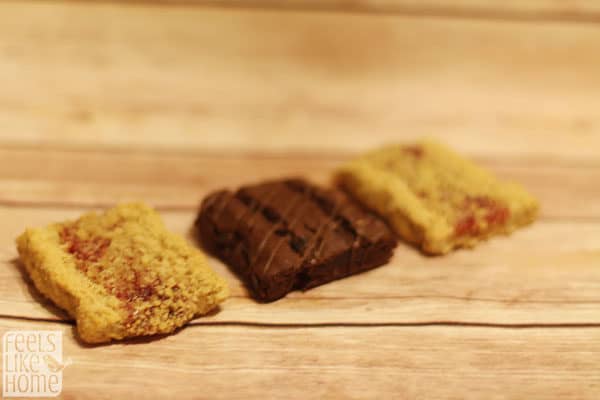 Pin
Disclosure: This post was sponsored by General Mills through their partnership with POPSUGAR Select. While I was compensated to write a post about Fiber One's® Brownies & Bars, all opinions are my own.