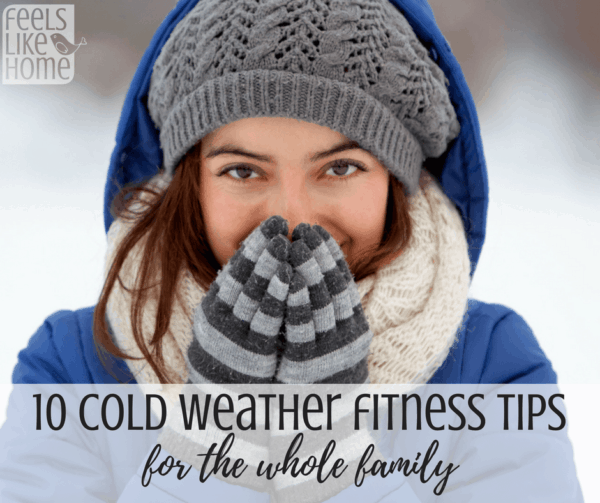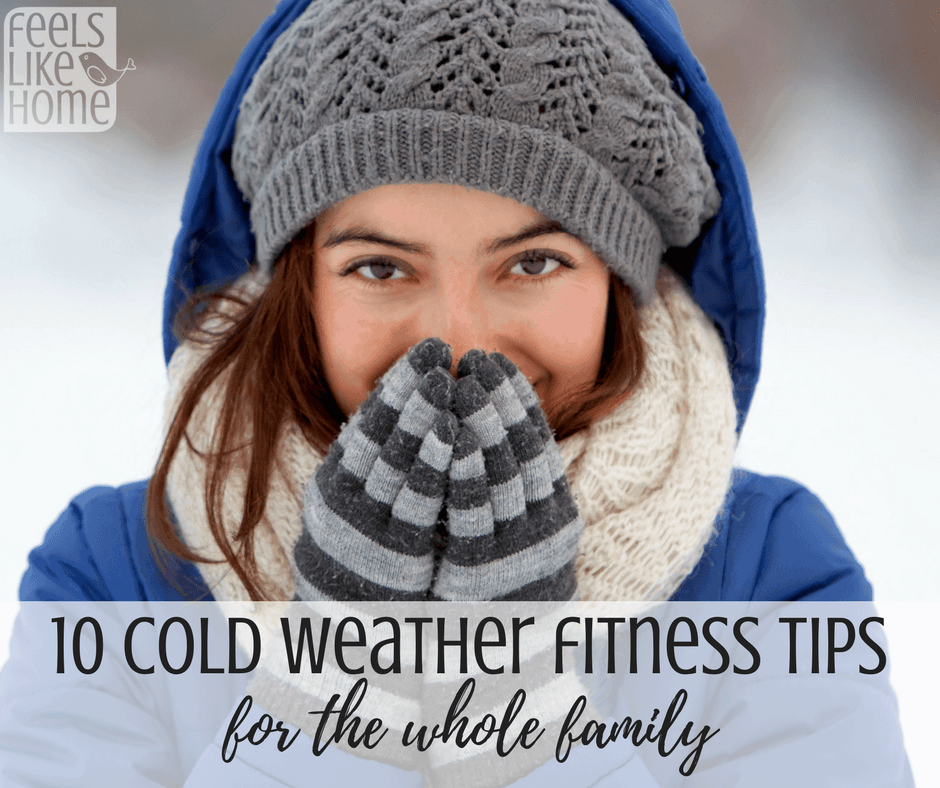 A couple of weeks ago, I published a post about making exercise a family habit. As I said in that post, I make the girls walk with me almost every day. We walk about 1.5 miles. If I'm walking by myself, I can make the whole walk in 31 minutes, but with the girls, it usually takes 35-38 minutes.
When it was very hot outside, we sometimes skipped our walks. I hate to be in the heat, and I didn't want to stress our bodies too much.
Now that the weather is getting colder (and quickly, it seems), I had to come up with a plan for the cold weather. The girls want to skip our walks whenever we need to wear a jacket, but that is not going to fly with me. I told them that we would walk unless the wind chill fell below 10ºF. They were not pleased with my decision, but I think they will manage.
10 Cold Weather Exercise Tips for the Whole Family
Don't be afraid of the cold: Bundle up and head outside for play times and walks. If there is snow on the ground, go sledding or tubing, have a snowball fight, build a snow man, make snow angels or just go for a fun hike.
In the interest of honesty, this is easier said than done for me. I hate being outside in the cold! But I have invested in a warm coat that fits well (at the moment), mittens, a scarf, and warm boots - as well as each for the girls - and my plan is for us to bundle up and get outside every day.
Enroll your child in a class: swimming, dance, gymnastics or indoor sports classes. These are often available through your school district or neighborhood Rec Association at a relatively low cost.
Allie takes weekly dance classes, and they aren't very expensive. Both of the girls are also taking swimming classes (Grace unwillingly) at Penn State Harrisburg over the winter.
Find indoor activities at your local skating rink, bowling alley, laser tag center or rock climbing gym. How about the mall? One of our local malls has an indoor playground for little kids, and it's free to use.
Discover a local community center or health club with indoor basketball courts, pools and/or tennis courts. Shoot hoops, swim or volley tennis balls across the net.
Rent or buy a children's fitness video. Instead of watching cartoons and playing video games, push the couch and tables out of the way and workout together. There are loads of kids fitness videos on Amazon Prime Video, or you can buy one. There is a Christian exercise series called Shazzy Fitness that's not specifically for kids but features worship music appropriate for all ages. Workout Kid! is a DVD specifically for kids that gets really good reviews on Amazon.
Also, Wii, anyone? My kids love Just Dance! Kids for the Wii.
Turn up the volume! Stream your children's favorite music and just dance in the living room. We listen to Kids Bop! for free on our Amazon Echo. Have your kids re-enact their own music video (there are some great ones on YouTube), video tape them, and play it back for hours of fun!
Check out kids fitness classes or mommy and me group exercise classes at your local health club or gym.
Create an obstacle course in your house. Set up stations in your family room or throughout your house. Tunnels, hula hoops, jump ropes, steps, and exercise balls are great props for an exciting playtime.
Summer is not the only time for camp! Look for holiday camps and mini clinics at your local health club or community center. Kids can often enroll in half day or full day activities during school vacations, and homeschool classes often go on all year long. Over the years, we have done homeschool ice skating, dance, and gym classes. I know of others in our area including gymnastics and swimming. The sky's the limit if you look hard enough!
Don't forget Twister. This game is an all time favorite for kids and adults! Other classic games like Duck Duck Goose and Freeze Tag can be played at any time, even indoors.
There are endless opportunities for exercise, even in cold weather, so make sure you have a plan for the coming season! With a plan and some determination, you'll be working up a sweat with your kids all winter long!